So as I am still working on losing weight and incorporating more plant based food in my life, I have decided to try some vegan recipes to help get some more variety in my life. I can only eat raw fruit and microwaved vegetables for so long before I lose my freaking mind. I have a few recipes that I have tried so far and I was pleasantly surprised that they weren't that bad. I could definitely tell what I was eating was healthy but it didn't make me hate myself as much as eating a dry ass salad or a microwaved bowl of green beans.
Now, before everyone freaks out that I am not really going vegan you are absolutely right. I am trying these recipes for the health benefits and potential to help me reach my weight loss goals while keeping my mental sanity mainly intact. My goal is to consume 75 - 90% of my total food in plant form. I traditionally enjoy pasta, diary (especially cheese), and most meats. When I do eat meat, I try to eat meat that is cooked in a healthy-ish manner. For example, grilled or pan seared chicken, grilled or pan seared lean beef, sushi in nigiri form, etc. I really do love dairy and meat and I can't really see myself ever feeling like I could go full blown vegan. I work in the food industry and I know first hand where my meat comes from. While I am an animal lover, I still feel that animals grown for the purpose of food for humans can have a healthy happy life. If those animals didn't have a purpose, they wouldn't exist at all. (Not saying cows and pigs wouldn't exist but they would not be any where near the number that exist today.) I completely understand why some people are vegan for ethical reasons, but for me this just isn't why I want to do this and why I am not fully committing to a 100% vegan diet. So that being said, let me share the few recipes I have tried recently!
This was not difficult to make and I actually really liked it. I did leave out the avocado because I just don't like it and I was trying to get this recipe to about 300 calories a bowl. The chickpeas have a really nice flavor when roasted and when mixed into the quinoa makes the dish more satisfying. The recipe makes WAY more sauce than you need but I am not sure if there is a way to cut that down a bit and still be able to blend it properly. I did not care for the raw greens. I would recommend sauteing some kale, spinach, or Swiss chard to make the dish go better. I don't like hot lettuce that isn't intended to be hot. Overall, I did like it and would make it again with some tweaks. 8/10 - would eat this again.
Creamy Vegan Lemon Pepper Pasta from -
Blissful Basil
(Gluten Free, Vegan)
So for a vegan alfredo this tasted pretty good. It wasn't cheesy tasting at all but was creamy. The only weird ingredient in this was nutritional yeast flakes but you can get them at whole foods in bulk so you don't have to spend $13 for a jar if you just want to try it. The pasta that I used was gluten free linguine from
bionaturae
. I found this brand at whole foods and it actually does taste like traditional pasta. The texture is not weird either. My only criticism of this dish is that 6 cloves of garlic is just WAY too much. I should have cut it down to 3 or 4. I have a feeling it has such a high level of garlic to give it some kind of flavor. If it wasn't for the garlic this dish would be pretty bland. This ended up making 4 servings at about 525 calories. (the pasta accounted for 400 of the calories) The other problem I had with this dish is that after about 3 hours I was hungry again and had a second serving. I still wasn't very satisfied after I finished it because I was missing that cream flavor from real dairy. I am just starting to get used to vegan food though so this could also be part of my adjustment period. 8/10 would eat again (sauce) pasta was 10/10. If you told me it was gluten free i probably wouldn't believe you.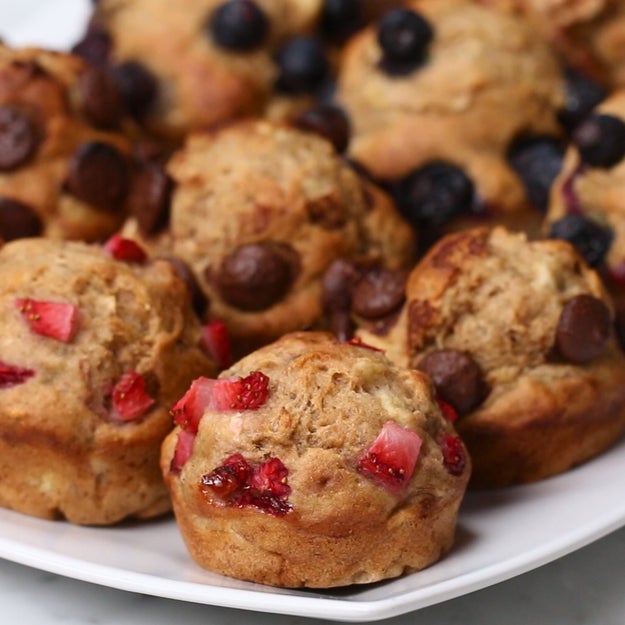 Banana Bread Mini Muffins from -
Goodful
(Absolutely NOT vegan but vegetarian)
So I know these aren't technically vegan (contains egg, yogurt, honey??) but they are so good I had to share the recipe. The secret is to use really really REALLY ripe bananas. They hide the whole wheat flour taste and keep the muffins super moist. When I make this recipe I stir 1/2 cup of mini semi-sweet morsels into the batter. It also makes what I would consider 14 normal sized muffins. They look mini in the picture but they bake up as a normal sized muffin. The American gigantor muffins I see at pastry shops is not a normal serving. Sorry. I am not sure if you could replace the eggs and yogurt for maybe apple sauce or almond milk or something but I like the recipe enough to leave it as is. Each muffin is only 150 calories if you make 14. 10/10 I have made these every Sunday for the last 3 weeks and eat one everyday for breakfast.
*** updated***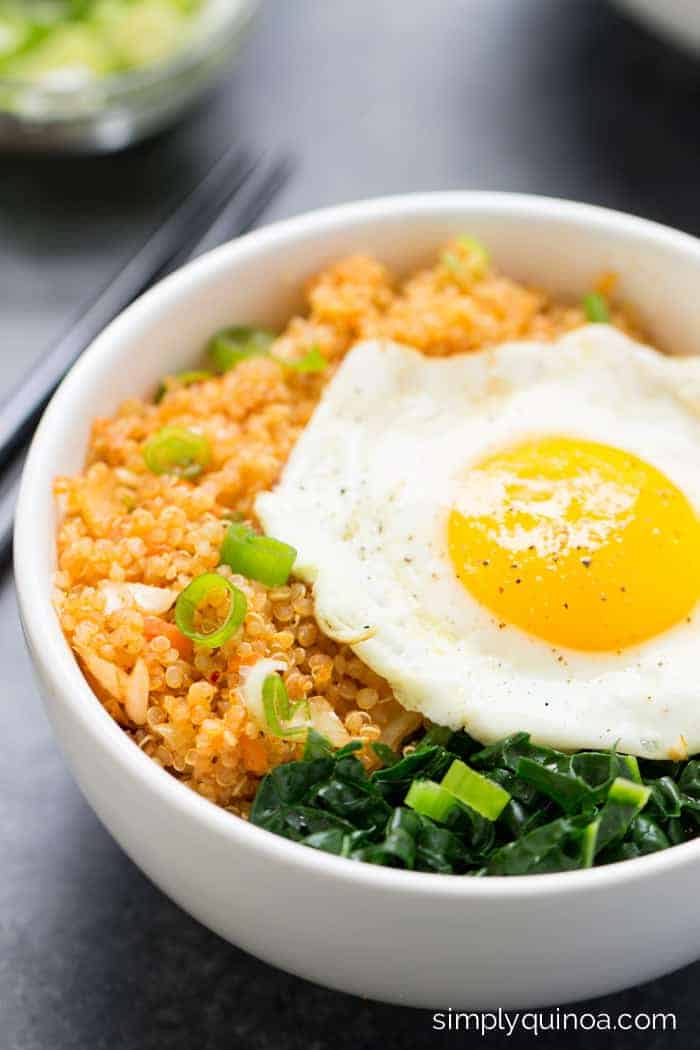 Spicy Kimchi Quinoa Bowl -
simplyquinoa
(can be vegan if you leave out the egg)
So... Let me tell you about this fucking recipe. My house smelled SO FUCKING GOOD. Like omg I walked into Chinese food heaven. It legit smelled like real fried rice in my house. I was so excited to eat this and it looked so good. I was ready to demolish a whole bowl of this shit, and then I tasted it. Now I am not sure if it was the taste or the texture or what was going on but I couldn't get myself to stomach more than half a portion... It was crunchy and a little spicy but not too hot, the oil was there to give it some body, the kale might have been a bit too crunchy but ugh. I don't know, I even added the egg to try to get it to taste better but I couldn't get through it. I have never eaten kimchi before but it is well hidden in this dish and pretty much just adds some spice and some crunch. It reminded me of the cabbage you get in Panda Express noodles or other asian dishes. I don't think it was the kimchi but I honestly just don't know. I was so underwhelmed after how fucking delicious my house smelled after making it. Needless to say I ate half a bag of chips after this meal because I was fucking starving. 2/10 - I might eat it again if I was dying and had nothing else to eat.
These are the few recipes I have tried so far but I plan to keep trying new options. If you have any favorite recipes please share!
- Basic B